improving the community through cardboard
Great Plains Gaming Project, Inc. is a non-profit organized exclusively for charitable and educational purposes.  The purpose of this corporation is: to promote the hobby of board gaming for the purposes of encouraging and improving: social and interpersonal skills (verbal and non-verbal communication, cooperation, sportsmanship, persuasion, self-confidence); and thinking skills (strategy, problem-solving, logic, memorization, decision-making).
The Great Plains Gaming Project is a 501(c)(3) non-profit focused on educating the public on the social and cognitive benefits of board gaming.  It partners with various regional charities, either by donating board games to them, or helping them with board game-related activities for fun and/or fundraising.  The annual Great Plains Game Festival is one of the largest board game conventions in the region.
"They donated a slew of board games to us and stuck around to show our youth how to play them. You guys are the best!"
OMAHA HOME FOR BOYS | DECEMBER 2019
Great Plains Game Festival
The Game Festival supplies a library of over 1000 of the hottest, most popular games for attendees to play. In addition, a board game swap meet will be held throughout the weekend; several local game designers will be running demos of their latest game designs; over 100 "play-to-win" board games will be given away during the event; and a game will be given away to everyone who pre-registers for the Festival at https://greatplainsgamefestival.com.
"This is our TEN year anniversary, and it's bigger and better every year! We are expecting 1000 registered attendees this year, and our focus is to offer friendly, approachable open gaming experiences.
"This is something that brings friends and families together."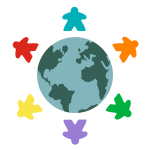 The Great Plains Gaming Project and the Great Plains Game Festival enthusiastically welcome all people, regardless of race, color, religion, gender, age, national origin, social status, disability, marital status, sexual orientation, military status, nerdiness, geekiness, or general awkwardness, in any of its activities or operations.  We are committed to providing an inclusive and welcoming environment for all members, volunteers, subcontractors, vendors, clients, and attendees.
What are we talking about on Facebook and Instagram? Join the conversation!