The world of board games is vast, rich, and, above all, incredibly fun. It's not just about rolling dice or moving pieces; it's about sparking creativity, kindling strategy, and weaving a tapestry of stories and experiences.
For elementary school students and those just stepping into this universe, the right selection can make all the difference, setting them on a path to lifelong love and appreciation for board gaming. We've seen a lot of great board games in our time, but we've pinpointed nine games to add to your club library for young minds and beginners.
Whether you're an educator looking to enhance classroom engagement or simply searching for the next family night favorite, our curated list promises a blend of fun, learning, and sheer excitement!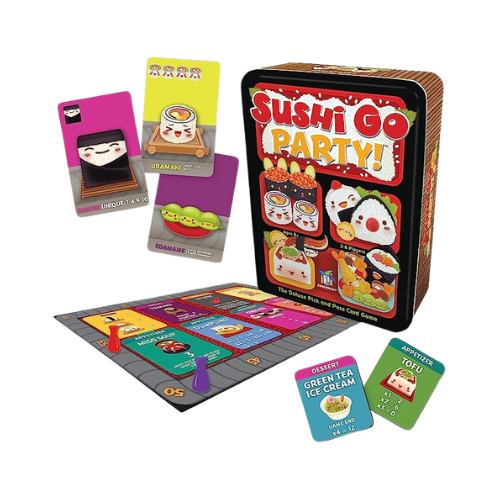 Sushi Go Party! expands Sushi Go! with a party platter of mega maki, super sashimi, and endless edamame. You still earn points by picking winning sushi combos, but now you can customize each game by choosing à la carte from a menu of more than twenty delectable dishes. What's more, up to eight players can join in on the sushi-feast. Let the good times roll!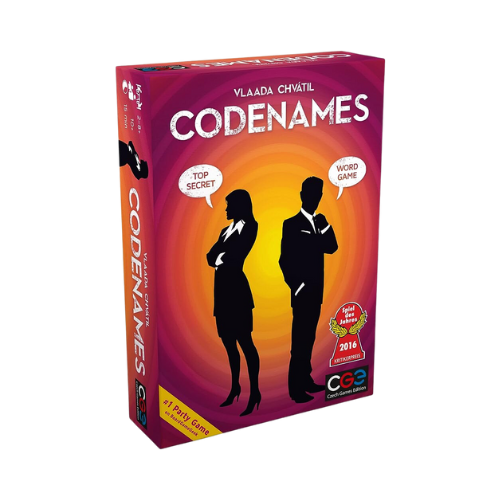 Codenames is an easy party game to solve puzzles.
The game is divided into red and blue, each side has a team leader, the team leader's goal is to lead their team to the final victory.
At the beginning of the game, there will be 25 cards on the table with different words. Each card has a corresponding position, representing different colors.
Only the team leader can see the color of the card. The team leader should prompt according to the words, let his team members find out the cards of their corresponding colors, and find out all the cards of their own colors to win.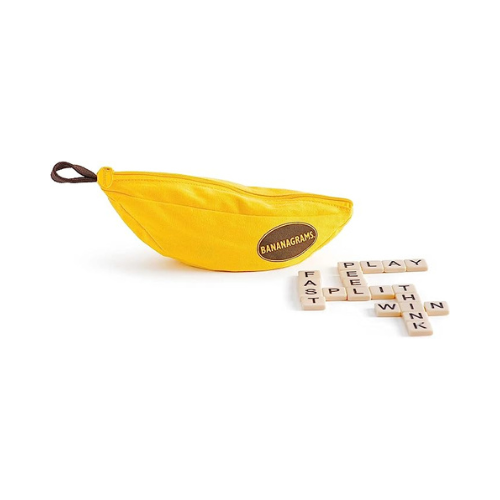 Bananagrams is a fast and fun word game that requires no pencil, paper or board, and the tiles come in a fabric banana-shaped carrying pouch. One hand can be played in as little as five minutes. Much like Pick Two!, but without the letter values.
Using a selection of 144 plastic letter tiles in the English edition, each player works independently to create their own 'crossword' faster than one's opponents. When a player uses up all their letters, all players take a new tile from the pool. The object of the game is to be the first to complete a word grid after the "bunch" of tiles has been depleted.
There are variants included in the instructions, such as Banana Smoothie and Banana Cafe for limited set skills or space-deprived places, and the game is suitable for solo play.

Forbidden Island is a visually stunning cooperative board game. Instead of winning by competing with other players like most games, everyone must work together to win the game. Players take turns moving their pawns around the 'island', which is built by arranging the many beautifully screen-printed tiles before play begins. As the game progresses, more and more island tiles sink, becoming unavailable, and the pace increases. Players use strategies to keep the island from sinking, while trying to collect treasures and items. As the water level rises, it gets more difficult- sacrifices must be made.
What causes this game to truly stand out among co-op and competitive games alike is the extreme detail that has been paid to the physical components of the game. It comes in a sturdy and organized tin of good shelf storage size. The plastic treasure pieces and wooden pawns are well crafted and they fit just right into the box. The cards are durable, well printed, and easy to understand. The island tiles are the real gem: they are screen-printed with vibrant colors, each with a unique and pleasing image.
With multiple levels of difficulty, different characters to choose from (each with a special ability of their own), many optional island formats and game variations available, Forbidden Island has huge replay value. The game can be played by as few as two players and up to four (though it can accommodate five). More players translates into a faster and more difficult game, though the extra help can make all the difference. This is a fun game, tricky for players of almost any age. Selling for under twenty dollars, oddly, Forbidden Island is a rare game of both quality and affordable price.
For those who enjoy Forbidden Island, a follow-up project by Gamewright titled Forbidden Desert was released in 2013.
From the publisher's website:
Dare to discover Forbidden Island! Join a team of fearless adventurers on a do-or-die mission to capture four sacred treasures from the ruins of this perilous paradise. Your team will have to work together and make some pulse-pounding maneuvers, as the island will sink beneath every step! Race to collect the treasures and make a triumphant escape before you are swallowed into the watery abyss!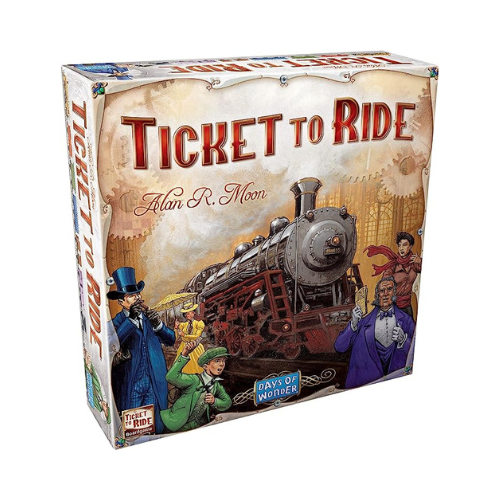 With elegantly simple gameplay, Ticket to Ride can be learned in under 15 minutes. Players collect cards of various types of train cars they then use to claim railway routes in North America. The longer the routes, the more points they earn. Additional points come to those who fulfill Destination Tickets – goal cards that connect distant cities; and to the player who builds the longest continuous route.
"The rules are simple enough to write on a train ticket – each turn you either draw more cards, claim a route, or get additional Destination Tickets," says Ticket to Ride author, Alan R. Moon. "The tension comes from being forced to balance greed – adding more cards to your hand, and fear – losing a critical route to a competitor."
Ticket to Ride continues in the tradition of Days of Wonder's big format board games featuring high-quality illustrations and components including: an oversize board map of North America, 225 custom-molded train cars, 144 illustrated cards, and wooden scoring markers.
Since its introduction and numerous subsequent awards, Ticket to Ride has become the BoardGameGeek epitome of a "gateway game" — simple enough to be taught in a few minutes, and with enough action and tension to keep new players involved and in the game for the duration.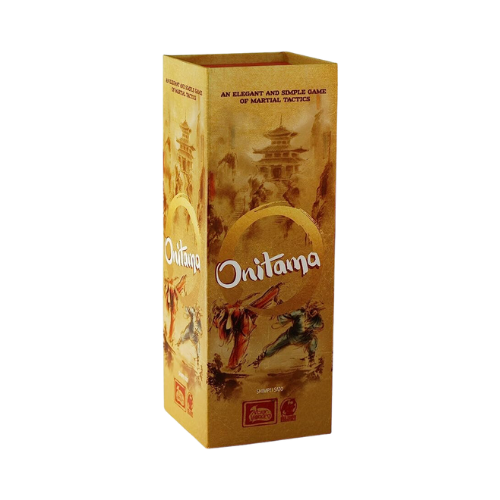 Onitama is a two-player, perfect information abstract game with a random starting set-up. On a 5×5 board, both players start with five pawns on their side, with the main pawn in the middle.
Each player has two open cards that each display a possible move for any of her pieces. There is a fifth card that cannot be used by either player. On a player's turn, she chooses one of her cards, moves one of her pieces according to the chosen card, then replaces the card she used with the fifth card. The other player then chooses one of his cards, moves accordingly, and exchanges that card with this fifth card — which is, of course, the card the first player just used.
Moving onto one of the opponent's pawns removes that pawn from the game. Taking the opponent's main pawn, or moving your main pawn into your opponent's main pawn's starting space, wins you the game.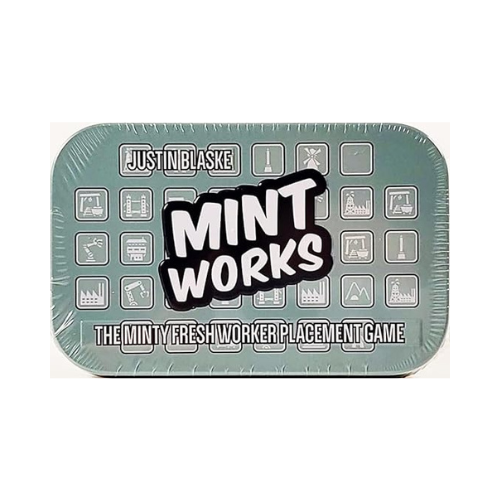 Mint Works is a light and straightforward worker placement game. Its compact size makes it easy to put in your pocket and take it anywhere. Its simple rules make it easy to introduce new players to the genre of worker placement.
During the game each player will have a limited amount of Mint Tokens, which represent their workers. Players will use these mint tokens to earn more tokens, take first player or buy and build plans. Plans are how players earn points. Some plans will give only points, others will give extra powers to the owner.
Once any player has at least 7 points earned (or if there are not enough plans to refill the stock) the end of the game is triggered. The game will then be over at the end of the current round.
Whoever has the most points provided by plans they have built wins!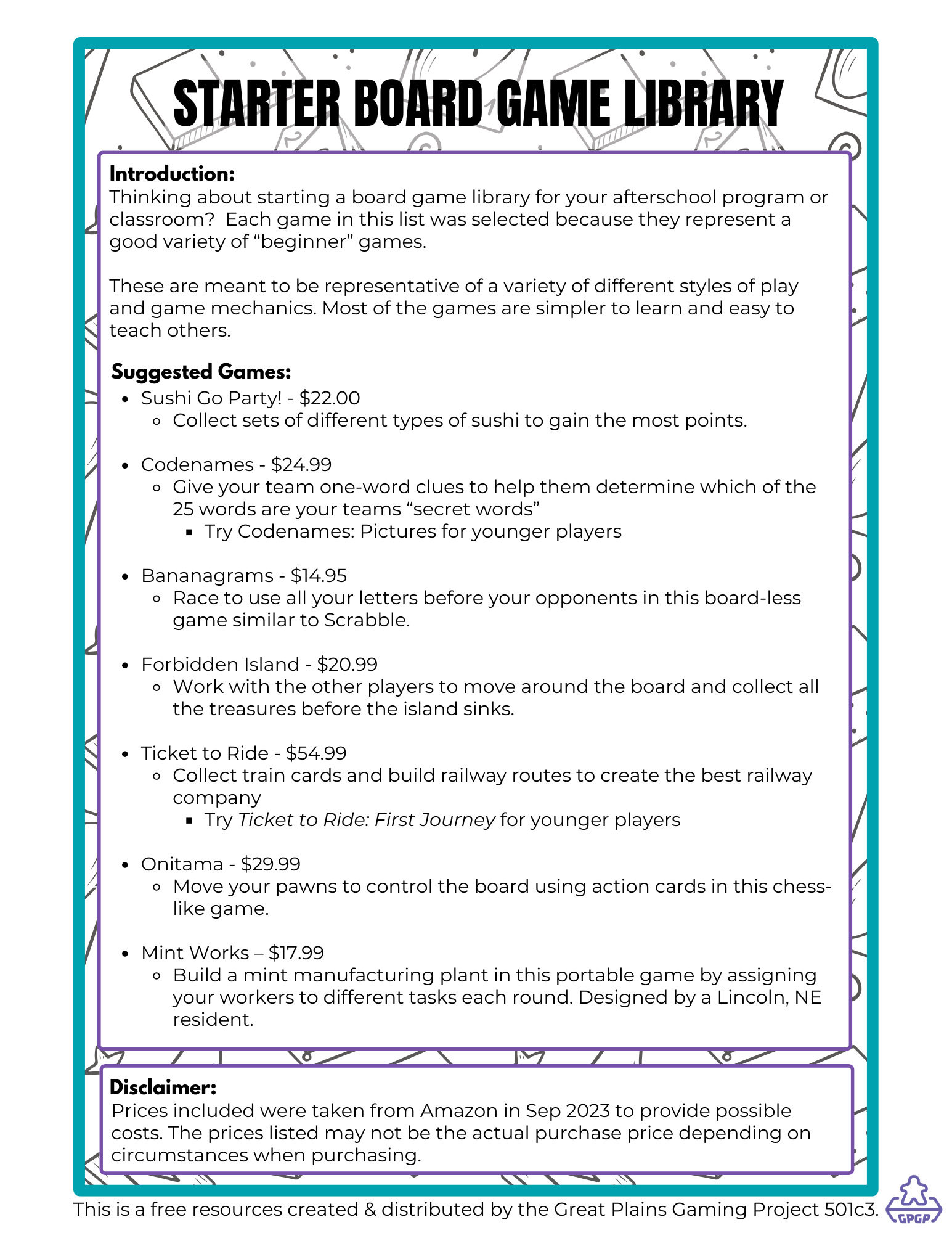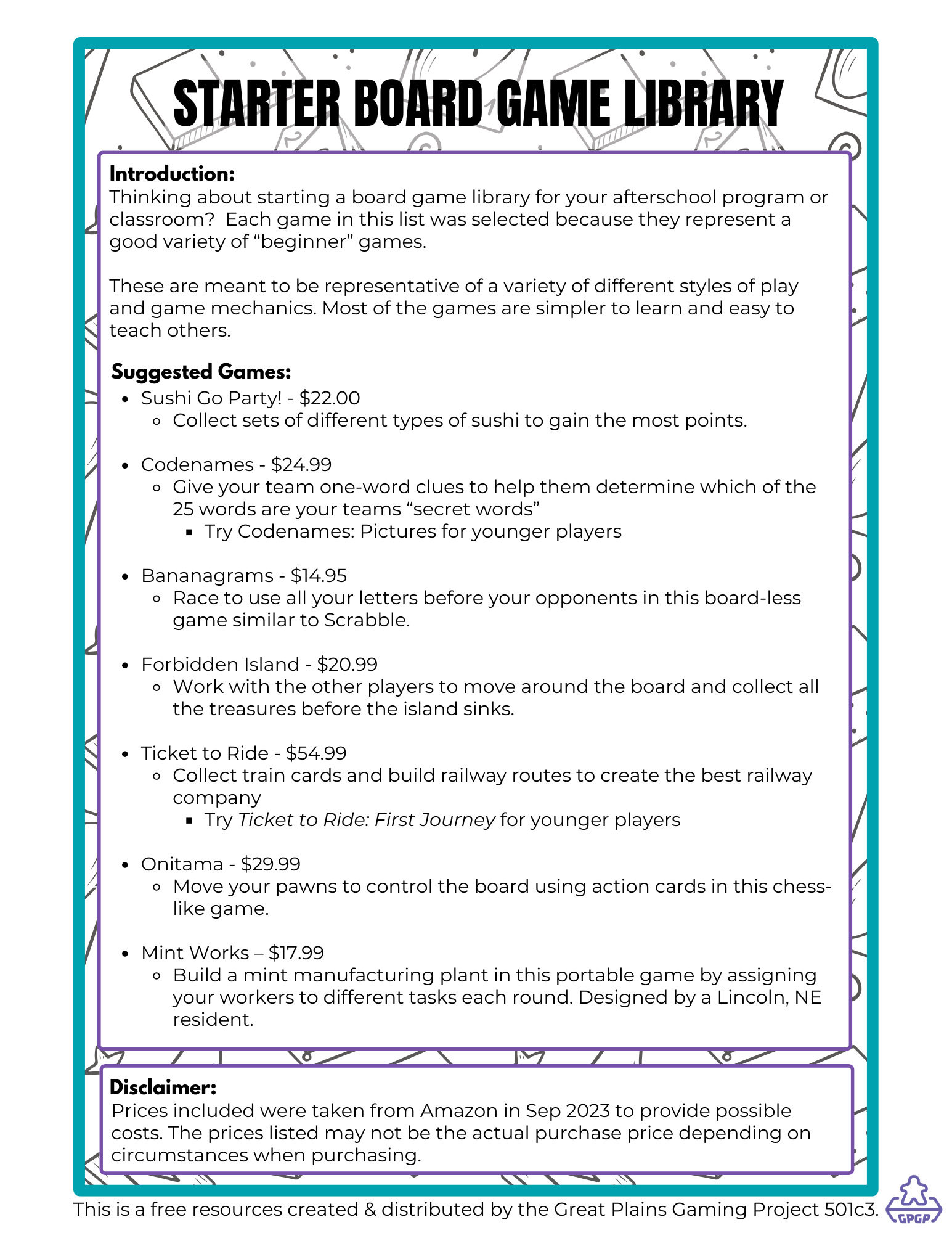 It's Time to Play Games!
Introducing children to the world of board games isn't just about entertainment. It's about setting the stage for critical thinking, collaboration, and genuine curiosity. The nine games we've highlighted offer a perfect starting point for beginners and elementary students, providing opportunities for both fun and growth.
As children explore these games, they're taking their first steps into a realm where learning and play go hand in hand. Here's to many hours of joy, laughter, and valuable lessons at the gaming table!
Thinking of Starting a Board Game Club?
Register with the Great Plains Gaming Project to get notified when we have new educator resources (like this article), learn about our upcoming education initiatives, and hear about exclusive opportunities for your club!